Software Solutions
Automation Support
Developing and supporting automation systems for end users and OEM'S.
For the Siemens platform:
Step 7 200 / Micro/Win
Step 7 Classic (S7-300/400)
TIA Portal (S7-1200/1500)
WinCC SCADA visualisation systems
WinCC Flexible HMI applications
Siemens Safety Integrated F-CPU's
Simotion motion control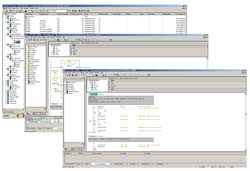 For the Rockwell Platform:
RS Logix 5 / PLC 5
RS Logix 500 /SLC500
Panelview32 HMI applications.
Support for Variable Speed Drives (VSD's):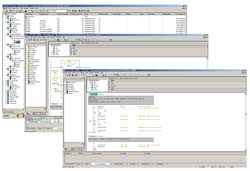 Developing bespoke automation systems for OEM's and End Users:
Control systems for special purpose machinery. From concept to final design and commissioning. Using S7 Classic (S7300/400), TIA Portal (S7-1200/1500), Rockwell PLC5 or SLC500.
Press control systems using Siemens F-CPU and Failsafe VSD's.
Energy Efficient control systems for pumps, fans and fly wheel drive motors.
Simotion motion control systems.
Developing plant Visualisation systems.
Siemens WinCC SCADA for single user or multi user projects in S7 Classic (V7.x) or TIA Portal (V13.x).
Energy monitoring with Powerrate for WinCC.
WinCC Flexible for automation systems.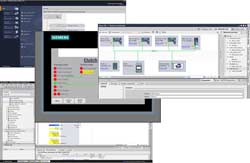 Additional Support Services
Obsolescence designed out:
Do you have machinery with obsolete control systems for which spares are no longer available? OD Automation Innovation can redesign these systems to integrate modern, current components and technologies while maintaining or improving functionality. The cost benefits for this approach are significant for those users who need to upgrade many similar machines.
Original equipment procurement:
Many companies can save thousands of pounds in repair costs and spare part stock holding costs by developing robust machinery specifications and manufacturing standards. OD Automation Innovation can help your company develop these standards in conjunction with your engineers or as a bespoke service. Standardisation means lower stock holding, commonality of spares, reductions in training needs and knowledge gaps
Continuous process improvements:
Is you machinery maxed out? Are you sure? How often does a 'fresh pair of eyes' bring a new perspective to a process? OD Automation Innovation has many years' experience in a variety of industry sectors including:

Metal Forming
Metallic Packaging
Food
In process industrial parts washing machinery

Each of these sectors made up of many individual sub processes. Sometimes moving an idea from one sector to another can open a new vista on the process.
Machine movements:
In an ever changing global market place where manufacturing assets are moved from one plant to another OD Automation Innovation can help with this. We can backup automation control programs and process parameters when machinery is running in normal production, we can support your preferred machine moving contractors in the re-installation and commissioning of the machinery anywhere in the world. If required we can even support the translation of schematic diagrams and control programs into different languages.